90 Days in Japan
This week saw us reach the 90 days limit of our initial tourist visas for Japan and as mine and the kids "Dependent Visas" haven't been issued yet we had to leave the country by Thursday, or become over-stayers.   Angela's company arranged a trip for me and the kids out of Japan to Busan, South Korea leaving on Wednesday and back on Friday.  Now Busan (or Pusan as we in the west more commonly refer to it apparently) is not a place that has ever been on my travel radar, or a place I had ever really heard of, although I have since learnt that it was the venue for the sailing events at the 1986 Seoul Olympics (which means more Kiwi gold was won there).  On a coincidental side note, our journey so far seems to have taken us to a number of places embedded in New Zealand Olympic history;
Moscow – the Olympics we boycotted in 1980,
London – Home of New Zealand's most successful Olympic campaign and venue for our home town boy, Joseph Sullivan's amazing gold medal effort, last year.
Helsinki – Scene of Evette Williams's Long Jump gold medal in 1952 and first gold medal won by a New Zealand woman.
Stockholm – First gold medal won by a New Zealander in 1912.
Tokyo – Scene of Peter Snell's double gold medal effort and first time a New Zealander won 2 gold medals at a single games
Busan – Bruce Kendall's gold medal in the board sailing at the 1988 Seoul Games
So on that note all bodes well for New Zealand Olympians in the 2020 games to be held here in Tokyo.
Anyway back to our latest adventure.
Sorry Sir, Even Though You Have to Leave By Today You May Not be Allowed Too…
We had an early afternoon flight so caught the local train to Narita with plenty of time to spare and found our way to the Air Busan check-in counter a full 15 minutes before it even opened, which must be a record for a Fitzpatrick (usually we are the last to check-in just as they are about to close the counter…).   Once it opened we made our way to the desk and presented our passports, only to be told that there was a problem with our visas and that we may not be allowed to fly out.   Now only in Japan would they even think about preventing you from leaving the country as required by your expiring visa and making you become an over-stayer.  Anyway a number of phone calls by the staff to immigration seemed to clear the issue up enough that they were happy enough to let us check-in, with the warning that while we are allowed to leave, we may still not get back in, and that if we do get back in our visa applications, which by now should almost be issued, could be cancelled and we will have to apply again.   So at least we have complied with the requirements of our visa and left before they expired.
It does seem ironic that here they are at the flight desk telling us that even though we are required by law to leave the country, that we may not be allowed to, while 20 meters away in the drug store, Jimmy (only just turned 7) has gone in and purchased medication for a headache he had without an adult in sight, I am sure they wouldn't sell such drugs to a kid in NZ.
Busan Bound
The flight to
Busan
goes quickly and soon we are landed at Gimhae International Airport and through customs and Immigration.  Our tickets are obviously part of some package (Japanese people seem to love package holidays for some reason) as we have to meet our guide, who speaks no English at the arrivals hall.  She loads us into the mini van and between her Jinglish and mine and Jimmy's limited Japanese knowledge we work out that we are scheduled to visit a Duty Free store for 20 mins on the way to our hotel, even though we are the only passengers and have no interest in Duty Free Shopping. Anyway we duly fill in 20 mins at the Duty Free Store and head back to the mini van with our free gifts of snail mucus face mask (yes a free gift for Angela…..).   From our van we see that Busan is a busy city, and one where half the vehicles are Hyundai and the other Kia's so they obviously support the local economy in a big way.   We check into our hotel, a rather tired Hotel Kukje that has seen better days, have a bit of a breather then head out to look for dinner.
As we are in Korea it seemed that the most obvious culinary delight to experience was Korean Barbeque.   Luckily there were a number of restaurants around our hotel and we found a nice looking BBQ restaurant and grabbed a table.   We had our own cook who showed us the ways of the Korean BBQ, was classic watching her stuff food in Molly's mouth demonstrating how to enjoy it best.   After dinner we had a wander around our neighbourhood to see what it was like and the thing that struck us most was the smell.   The best way we could describe the smell of Busan is as an open sewer, it really compares with Rotorua, but maybe not quite as pungent, and I am sure is from a completely different source….
Hand Forging tools
A typical side street
Fresh Turtle Anyone ?
We had one full day to enjoy the sights so the kids chose to visit the Aquarium which is the largest in Korea and situated on Haeundae beach.  We headed off in the morning and walked towards the Metro Information Centre so we could work out which train to catch to the aquarium.  We enjoyed the wander through the streets, taking side streets and back alleys where possible to enjoy the sights of Busan.   It is just like the Asia that we see on television and in the movies, with a lot of small shops and stalls, selling everything from fruit and veges to garden tools hand-forged on site, to cheap clothing, often run by an old man or lady well past retirement age.   Busan has quite a different feel about it than Tokyo, while it is a modernising city it still has what are obviously age old markets that seem to be as they would have been a hundred years ago, rather than a more modern interpretation.   We walked through one of the large traditional markets at Seomyeom, which doesn't seem to appear on much tourist literature, but which is well worth a visit.   It is undercover and is quite large and is obviously a traditional market for the locals selling all manner of foodstuffs, from the regular fruit and veges to bins and bins of live fish of all descriptions.   The general sewer smell is now complimented with the equally aromatic smell of a fish market, but nonetheless it is a hustling and bustling place, full of energy and people.   The kids were both fascinated and horrified by what they saw here. Among the bins of live fish, were also bins of live frogs, snails, turtles and tortoises, all awaiting a grisly death, as we witnessed being dealt to a turtle at one stall we happened upon where the stall owner was hacking the shell off a freshly killed turtle.
Frogs anyone ?
"I told you to pull your head in or I would cut it off !"
After the market we head to the SEA LIFE Aquarium and enjoy whiling away the afternoon in this world class attraction (I believe it is owned by the same company that owns the Dubai Aquarium which would explain the quality), the culmination of this visit is the underwater tunnel where you get to see a number of large sharks, a Sun fish and a huge turtle among other large and numerous sea creatures.   On the way back to our hotel we check out Shinsegae Department Store, reputedly the largest department store in the world according to the Guinness Book of Records.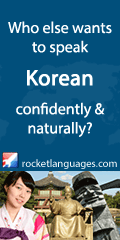 We enjoy another Korean BBQ restaurant on the way home, before packing our bags and hitting the sack ready for an early start in the morning.
While walking the streets of Busan, one of the features of the Koreans we noticed was their love of young children, everywhere we went young women and old ladies would comment about how cute Jimmy was, and in some places they would even try and rub his head.   One old man even commented to me about how handsome Jimmy was while we were waiting in line at the airport, (I didn't let on that he obviously took after me there….but he probably guessed that aye ???)
For the record, yes we did get back into Japan, no problems, and it took us just as long to get from Narita Airport to our apartment on the train as it did to fly from Busan to Tokyo.
Unfortunately we didn't have enough time here and as both kids gave it a super enthusiastic two thumbs up we will have to look to head back one day.   For all you back home stop reading now……… the cost of a return fare from Tokyo to Busan (a 2 hour flight) is cheaper than a standard one-way fare from Blenheim to Wellington.