Our recent excursion to Hiroshima started with a few days in the beautiful heart of Japan, Kyoto.  Formerly the capital of the Japanese empire until the transfer of power to Edo (modern day Tokyo).  I had been to Kyoto once before so was aware of the history and beauty of this ancient city and was excited to be sharing this with family.
There are so many things to experience in Kyoto that even 3-4 days doesn't seem enough to do it justice and will still feel like you are only scratching the surface.   Luckily Kyoto survived the Allied attacks of the Second World War unscathed, due to being earmarked for destruction by the Atomic Bomb, and also luckily missing the shortlist as targets were narrowed down later in the war.   This means that there are many structures still standing that have survived centuries and are still used today.  Kyoto just oozes history and culture.
As it was the end of Golden Week when we arrived we were expecting it to be busy and weren't surprised.   After checking in at our hostel and getting directions from the helpful owner, our first stop was Kinkakuji (The Golden Temple).   There were streams of people descending upon this popular attraction, so was a case of going with the flow as it surged through the picturesque pathways leading to the temple viewing area and our first photo opportunity.   It took patience to wait for a gap to emerge near the front of the masses viewing the temple, but when a spot opened it provided breathtaking views of this amazing temple covered in golden gilt.   After spending time taking in the view and getting enough photos to include everyone in a photo with the temple in the background at least we rejoined the stream (or maybe it was more of a torrent) of people following the path through the gardens and out the other end.
The following day the weather wasn't quite as friendly so it was out and about in the rain.   Our first stop was Gion to try and catch a view of a real life Geisha, however we wandered into Yasaka Shrine first which was another pretty impressive complex.  Construction of this shrine began in 656, so has plenty of history tied up in its walls and gardens.   There is something about Japanese shrines and temples in that even though they may be crowded at times they always evoke that feeling of serenity while at the same time leaving you awed by the skill involved in constructing such a building.  As you wander through Yasaka Shrine you emerge in a beautiful tranquil garden.  Upon exiting the gardens the road takes you through an interesting old street with plenty of souvenir shops along the side.  This road leads to Kiyomizu Dera, one of my favourite temples in Japan, but first you must brave the hustle and bustle of the streets leading up to the entrance.   These streets were full of souvenir shops and even more people, so was an effort to get to the end.  Here you can catch a glimpse of many Japanese (and even western) women dressed in beautiful kimonos taking in the sights, so you need your camera at the ready.   One of the attractions of this area is the ability to rent a kimono and wander the streets in it for the day.   Kiyomizu Dera is high on the side of a hill and is a real feat of engineering and probably would be so today as well.  Again the place was packed with tourists, but we were still able to enjoy the views from its centuries old verandahs.   By the time we had been through Kiyomizu it was time to head back to our hostel and head out to Tonkatsu Ichiban across the road from our hostel and enjoy another delicious meal of tonkatsu (crumbed pork cutlets).
While in Kyoto we stayed at Guest House Kyoto which was a 15 minute walk from Kyoto Station, close to a bus stop and provided a good clean and comfortable room for the 3 nights we were there.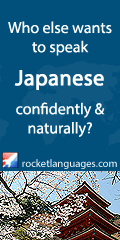 With one day left in Kyoto before heading south to Hiroshima, we decided to take in the Arashiyama Bamboo Forest on the recommendation of a fellow traveller we met on a train one day.   Arashiyama is located about a 30 min train ride from the city and is a quaint little town located on the banks of a river.   The bamboo forest is about a 10-15 minute walk from the station and while it is only a small forest, is big enough to provide some amazing views, with bamboo seemingly reaching for the sky all around you.   It is about a half hour walk through the forest where you will find some handcraft stalls and plenty of photo opportunities before emerging on the banks of the Oi River.   The river is busy with people in small boats and a few larger traditional sightseeing type boats carrying loads of people across the river to a restaurant nestled on the far banks.   Across the river you find Arashiyama Monkey park, home to about 170 monkeys who roam wild throughout the park.  To get to the monkey viewing area you trek through the forest and up the side of the mountain till you emerge at a plateau where there is a feeding hut.  Unlike the normal monkey park where the monkeys are in the cage and you are on the outside at this place the monkeys are all on the outside and you go into the hut to feed them through the wire mesh windows.   Outside you can roam freely among them however be warned that they are wild and not friendly monkeys so you do need to keep your distance a bit. The feeding area also offers a nice panorama over Kyoto.
While we had three very full days of sightseeing in Kyoto, we barely scratched the surface and have fortunately left many things left to be seen which will need further future visits to this wonderful city.   With only 1/10 of the population of Tokyo, Kyoto has a lot more laidback feel to it than the hustle and bustle of the capital, and I am sure if it wasn't Golden Week the attractions wouldn't have been anywhere near as crowded.
Kyoto Essentials
 Our favourite restaurant was
Tonkatsu Ichiban
which was conveniently located right across the alley from our hostel but which was so good we went there on 2 out of the 3 nights for dinner.   This is a small old style Japanese restaurant with only  3 or 4 tables and seemingly run by a family.  They don't speak much English but we had 2 delightful evenings with them.
Our find of Kyoto was a shop in Arashiyama called
Rental Kimono Akahime
 which does the whole rental kimono thing, but also if you don't have the time (or courage) to wander the streets in a kimono they will allow you to dress up in a kimono and have your photo taken.  We had enquired at one of the professional photographic places but found out that it was quite expensive and there was a long wait so had pretty much given up on the whole kimono photo opportunity until we stumbled upon this store.